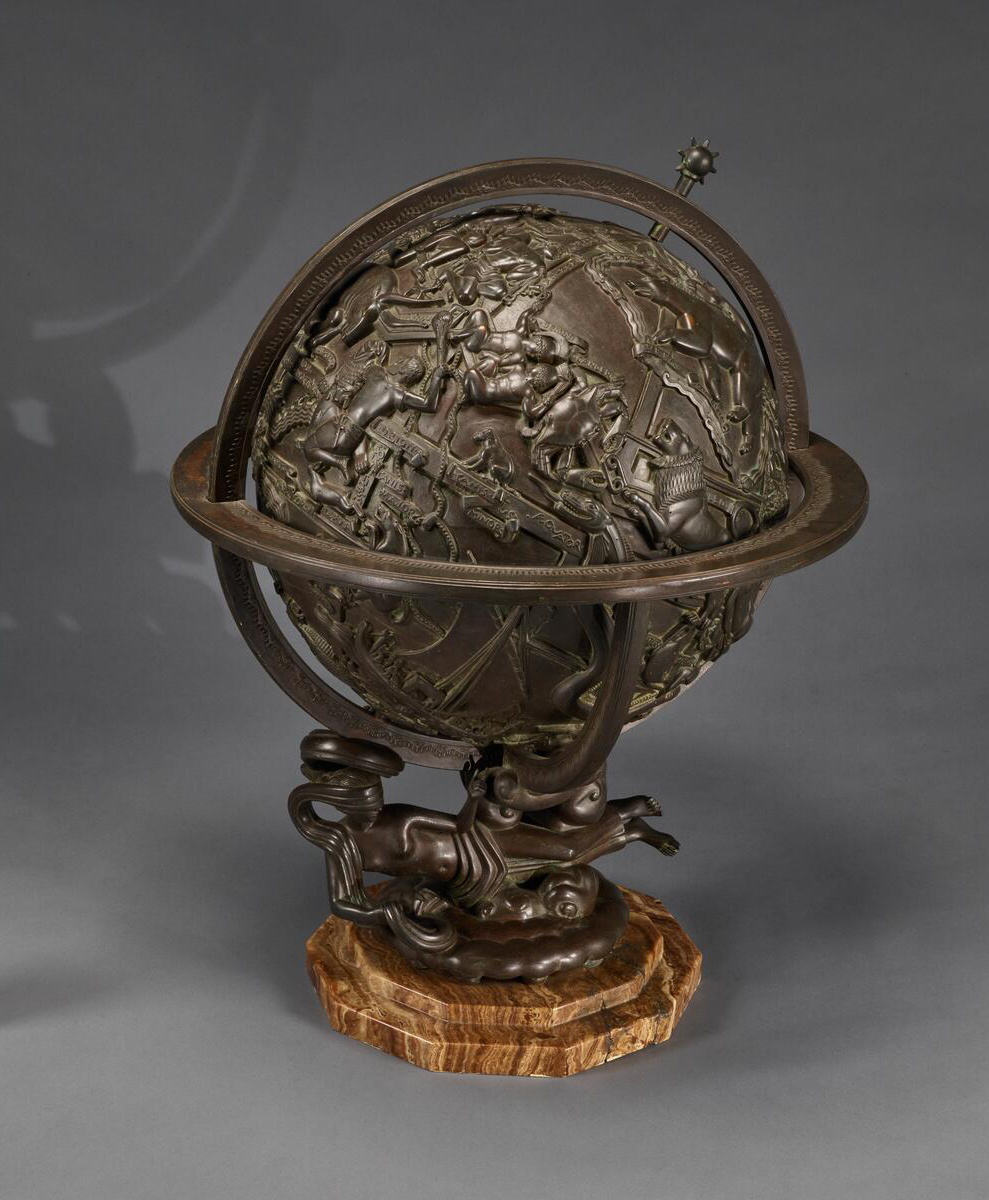 Cosmic Globe
Angle 1
Paul Manship
Support: Marble
Base: Brown striated marble, 38 1/2 circ. 13" width.
Inscription: Globe inscribed with various zodiac signs.
Paul Manship (1885–1966) was an American sculptor best known for his 1933 statue of the Greek titan Prometheus, which stands as the crowning jewel of the Rockefeller Center in New York City. Manship frequently turned in his work to mythical subject matter and presented it in a classical style, shying away from the growing trends toward artistic abstraction in his lifetime. Like Prometheus, his statues have found distinguished homes all over the world. Among the many successes of his highly decorated career, Manship received the Golden Plate Award from the American Academy of Achievement and chaired the board of the Smithsonian American Art Museum, where he now has a gallery dedicated to his works.
Cosmic Globe is Manship's take on a celestial globe, an outdated astronomical instrument from the 13th century that purported to show the positions of the stars in the night sky and allowed astronomers to track their movement. These globes reflect the archaic geocentric view of the universe, disproven by Copernicus in the 16th century, which viewed the earth as the center of the cosmos. Celestial globes mapped and gave shape to the heavenly sphere believed to surround the earth. The obvious problem with this depiction of the cosmos on celestial globes is that the viewer looking down on the globe would see the reverse image of the viewer staring up at the sky. Some newer versions of celestial globes, which remain popular decorative items, take this into account and flip their representations.
Manship's Cosmic Globe sets aside the matter of astronomical precision altogether by depicting the mythical figures of the thirteen Zodiac signs rather than the constellations themselves. This artistic rendering highlights the mythical qualities of both the cosmos as well as the once-scientific form of the celestial globe itself. This piece served as the precursor to Manship's Celestial Sphere—a much larger, though hollow, version of Cosmic Globe—which is the centerpiece of the Woodrow Wilson Memorial in the Palais des Nations in Geneva.
Written by Daniel Pfeiffer
Explore. Instigate. Build new knowledge.