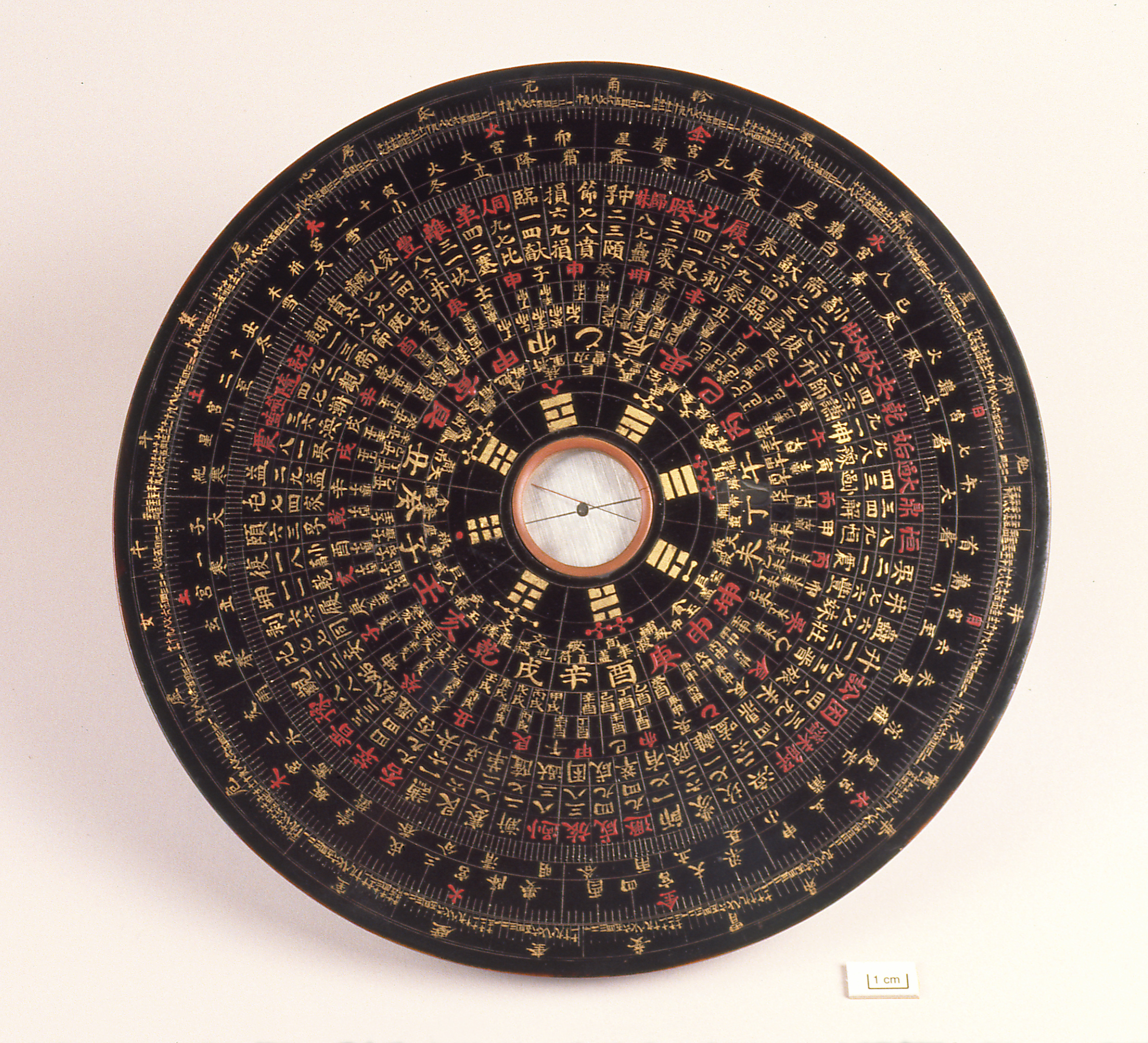 Compass, Astrological: circular, black lacquer disc, with compass in center; face engraved with many concentric circles and radiations filled with Chinese characters and symbols painted in gilt and red lacquer; back with Chinese inscriptions in gilt and seal in red.
Wood covered with lacquer
Hu Ruyi
Origin: Chinese
This instrument is used for determining the most advantageous positions for houses, alters, graves and other purposes. It gives information on geomancy, chronomancy, astrology, horoscopy; serves as a calendar and compass.
Purchased by Susan D. Bliss on April 17, 1940 from Gunn Latchford, New York, sometime between 1873-1933.
Donated by Susan D. Bliss, to the Hayden Planetarium, transferred to the library 1999 due to construction of the Rose Center. On display in the museum's Westin Pavilion for many years, deinstalled in preparation for the new Gilder Center.
Written by AMNH staff
Compasses have been made and used in China since 206 BCE. Unlike Western compasses, Chinese astrological compasses (luopan) point to the magnetic south pole, the most important direction in Chinese culture, and display 24 directions, each covering a 15° radius. These differences make the astrological compass a key tool for the ancient Chinese practice of feng shui, the auspicious placement of buildings and objects to promote harmony between people and their surroundings. In addition to telling the user the direction, the compass has several concentric circles on its surface, full of characters relating to astrology and the solar calendar. The skilled feng shui practitioner can read the many layers to this compass and uses it to locate energy flows. The intricate designs of these compasses have appealed to Western collectors as art objects, although their equally intricate meanings for creating knowledge are often lost.
Written by Daniel Pfeiffer
Explore. Instigate. Build new knowledge.