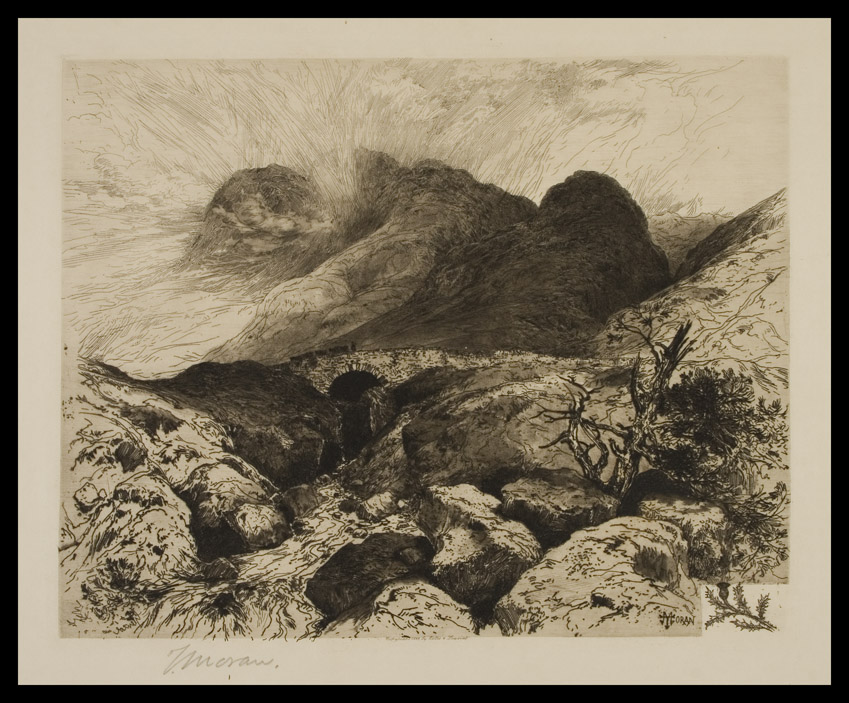 Thomas Moran (1837–1926) was an American painter of landscapes. The image above depicts, as its title suggests, a bridge in the Pass of Glencoe, Scotland. This work used etching and mezzotint on cream laid paper. Mezzotint engraving became popular in eighteenth century England as a quick method to replicate portraits. It involves engraving an image onto a metal plate along with gradations in depth and texture designed to produce shading. The engraving is then filled with ink and pressed onto paper.
Moran was greatly influenced by J. M. W. Turner, the artist who inspired John Ruskin to theorize that painting ought to realistically capture the detailed and nuanced beauty of nature.
Like O'Sullivan's stereographs of the West, Moran was commissioned to join several US Geological Surveys and was later employed as an artist by the Santa Fe Railway. Moran gained fame for his images of the land we now call Yellow Stone National Park. Moran's artwork played an important role in convincing politicians to designate Yellow Stone as the US's first National Park.
Written by Katrina Kish
Explore. Instigate. Build new knowledge.