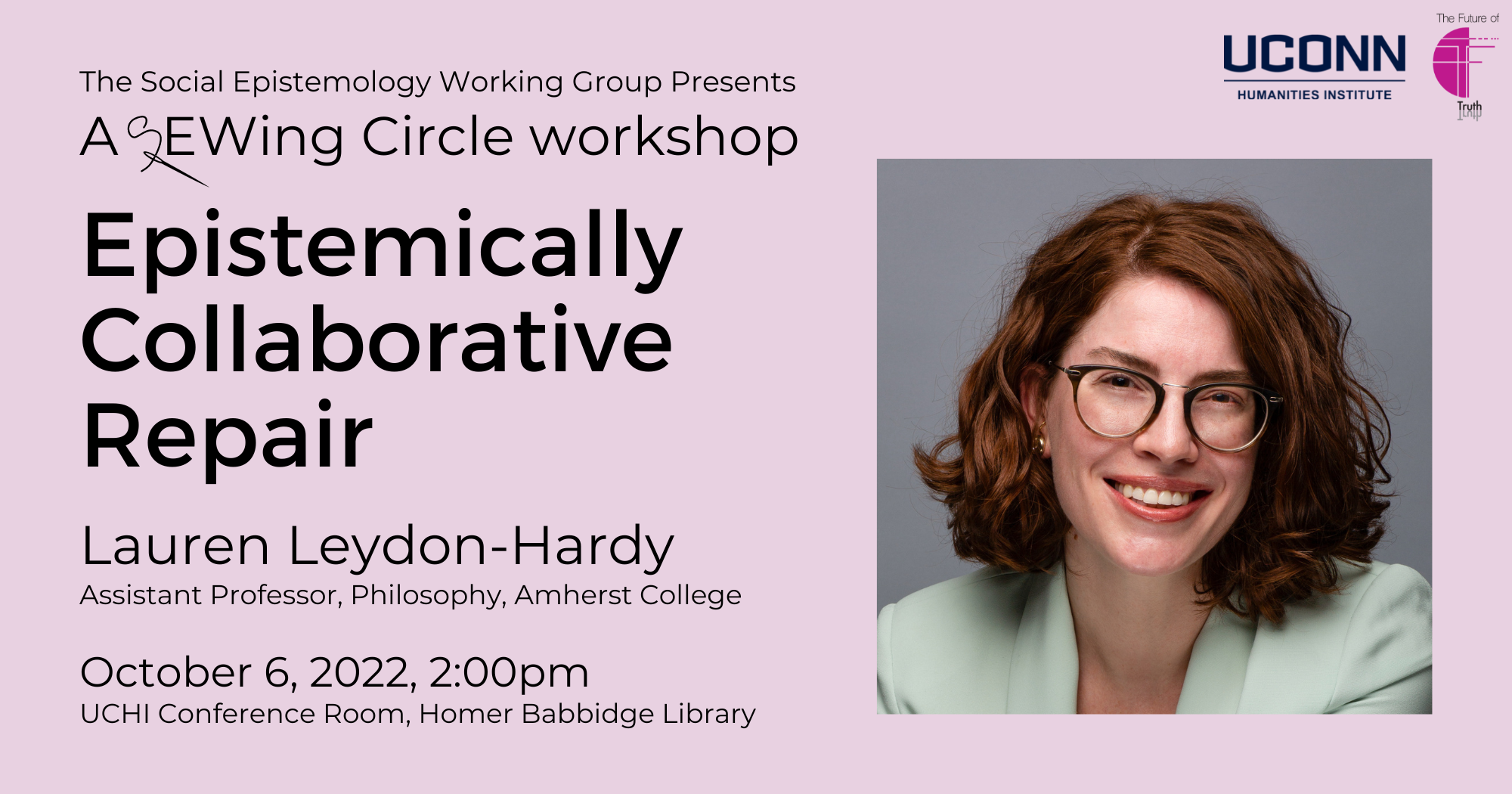 SEWing Circle Speaker Series
The Social Epistemology Working Group will be having a series of speakers starting October through December.
The SEWing Circle is a philosophy and interdisciplinary working group focused on understanding the intersection of epistemology, language, and politics from a socially accountable framework. Our events will be hybrid, with the in-person talk held in the Humanities Institute Conference Room (Homer Babbidge Library) as well as an online option via Zoom. Links with more details will be provided closer to the date of the speaker's appearance. Planned speakers for this coming series:
Lauren Leydon-Hardy (Amherst College)
October 6, 2022, 2:00pm
More information
Neftalí Villanueva Fernández (Universidad de Granada)
November 1, 2022, 2:00pm
More information
Manuel Almagro Holgado (Universidad de Granada)
(UConn Humanities Institute Visiting Scholar)
December 15, 2022, 2:00pm
More information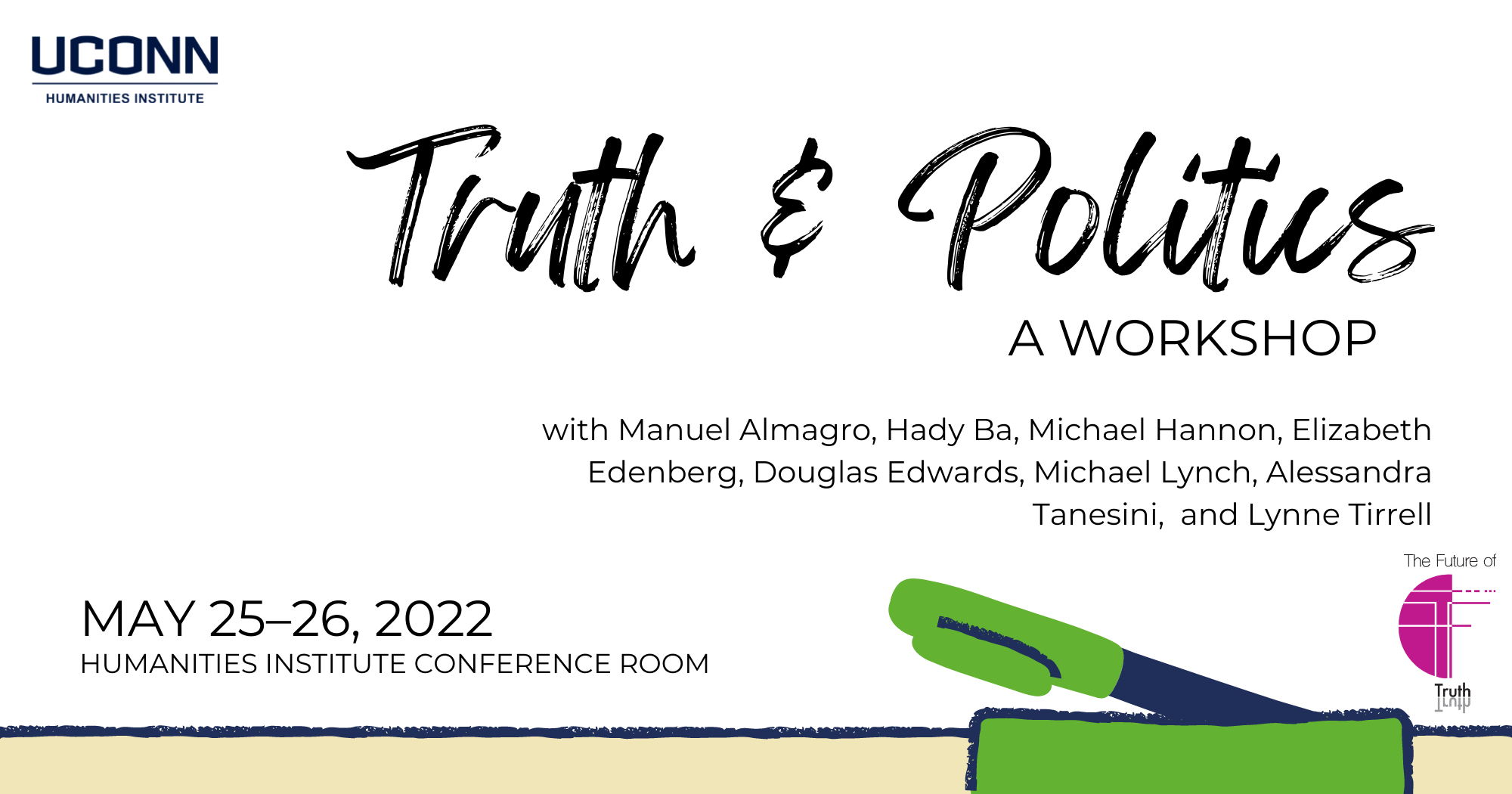 Truth and Politics: A Workshop
May 25, 2022, 4:00–6:00pm and May 26, 2022, 8:00am–6:00pm
Humanities Institute Conference Room
What has truth to do with politics? The Future of Truth project at UConn is hosting a two-day workshop on this question. Papers will consider the nature of political truth, whether democracies have a particular interest in promoting true beliefs in their citizens, and the various alleged threats, technological, political and epistemological, to the value of truth often associated with the idea that we are living in a "post-truth" culture.
Speakers will include Manuel Almagro, Hady Ba, Michael Hannon, Elizabeth Edenberg, Douglas Edwards, Michael Lynch, Alessandra Tanesini, and Lynne Tirrell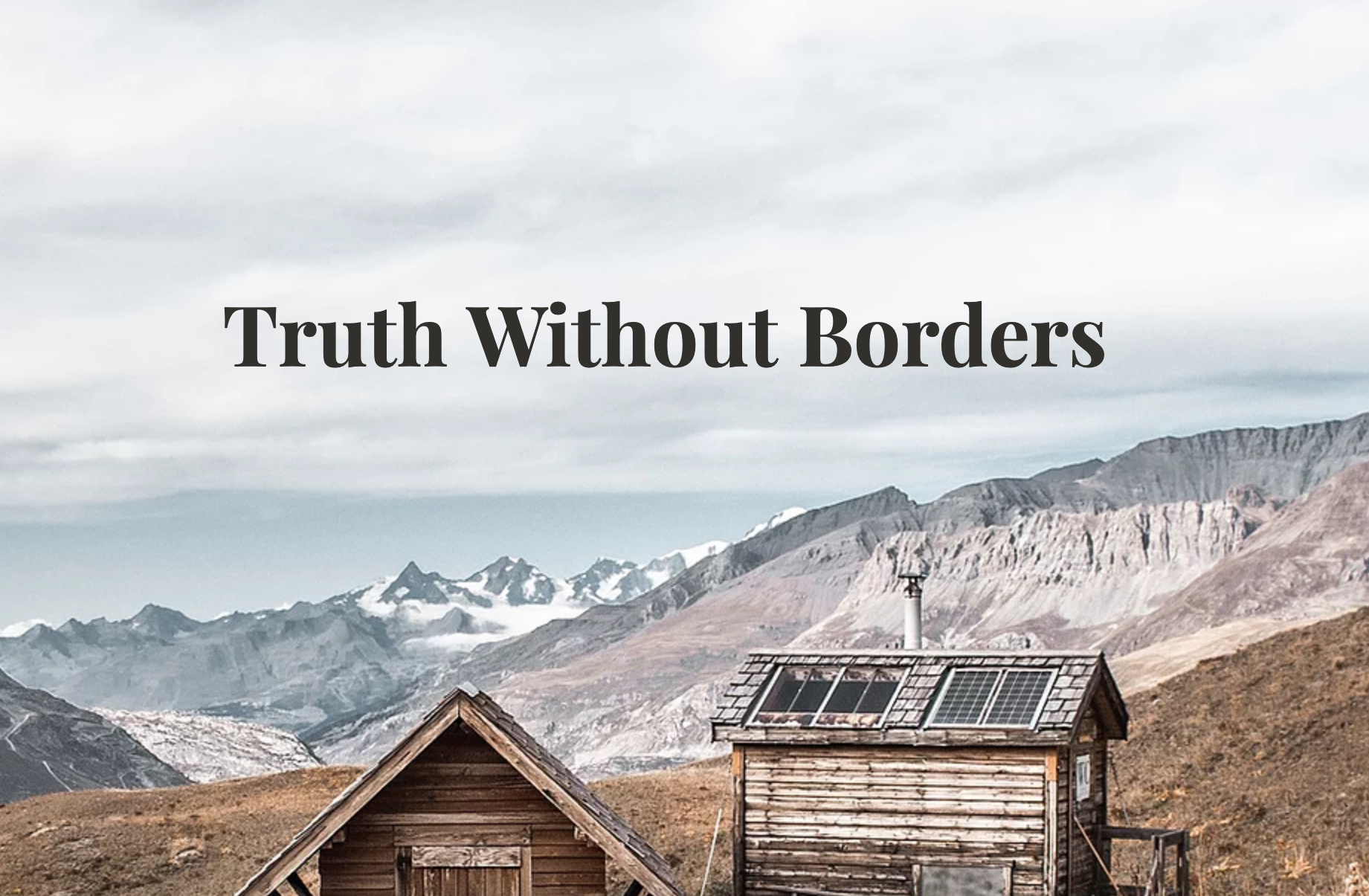 Truth Without Borders Workshop
November 30–December 3, 2021
The Truth Without Borders Project offers a workshop to any academic staff or student who shares an interest in the nature and value of truth. This is a capstone event for the half-year long project funded by the University of Waikato's Division of Arts, Law, Psychology, and Social Sciences.
Current programming includes:
Michael Lynch, "Political Truth"
Jennifer Nado, "The Role of Truth in Philosophy: A Conceptual Engineering Approach"
Jamin Asay, "Concepts of Truth?"
Alessandra Tanesini, "Intellectual Vices of Self-Evaluation"
Chris Heffer, "Lying, Bullshit, and Bullshitting: Why Truth Matters in Analysing Untruthful Discourse"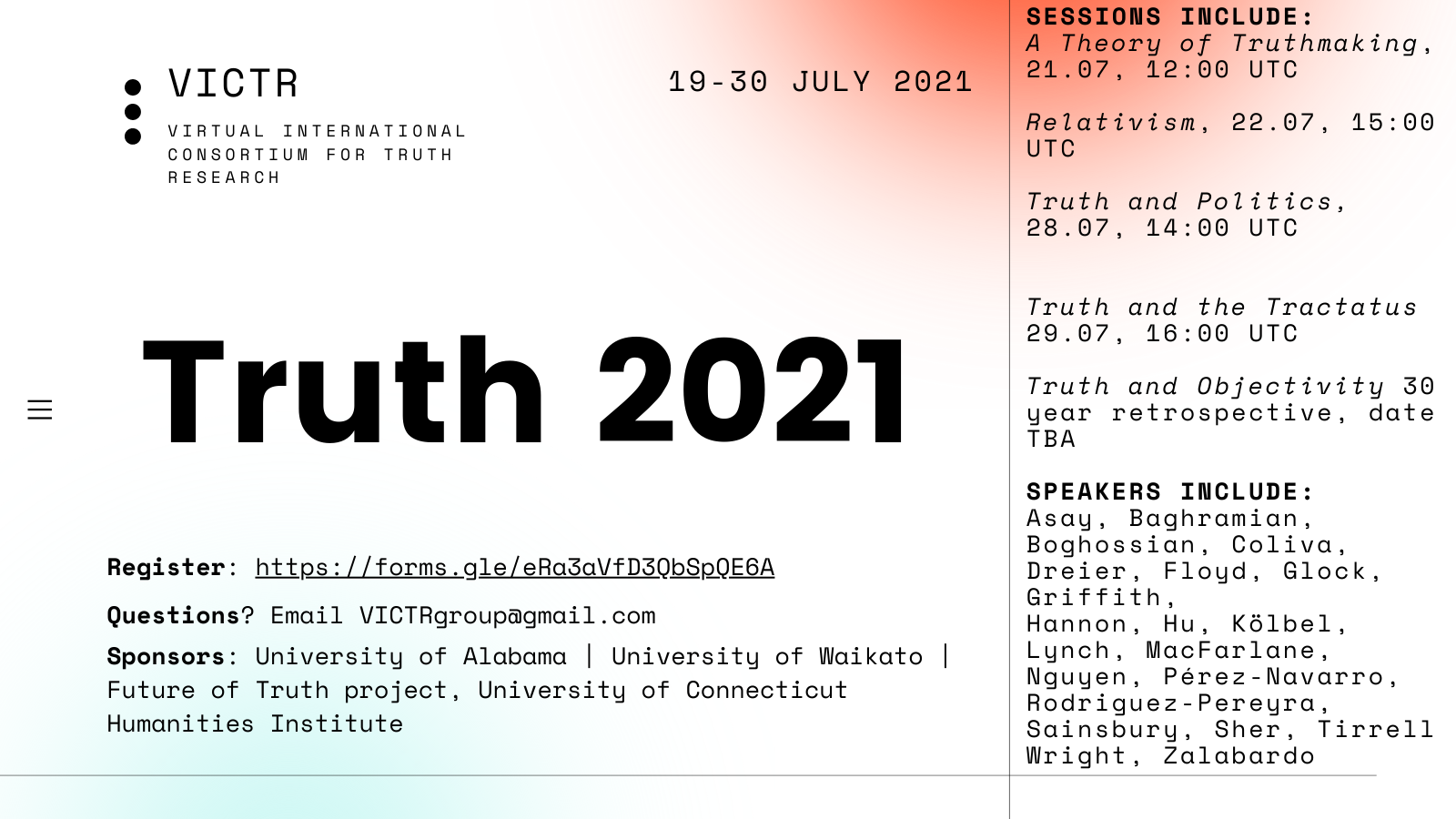 Truth 2021: An Online Conference
July 19–30, 2021
The Virtual International Consortium for Truth Research (VICTR) is pleased to announce TRUTH 2021, an online conference on the value and nature of truth, from 21 July through 29 July 2021. This conference will bring together leaders in the field and early career researchers from across the globe in an inclusive and discussion-oriented series of events. The conference is free and open to anyone with an interest in truth research.
The conference will feature five sessions over a two week period -- details below:
Session 1: A Theory of Truthmaking | July 21, 12:00 UTC
Author-meets-critics session on Jamin Asay's (Hong Kong University) A Theory of Truthmaking (Cambridge University Press, 2020). With comments from Aaron Griffith (College of William and Mary), Mengyu Hu (University of Connecticut), and Gonzalo Rodriguez-Pereyra (University of Oxford).
Session 2: Relativism | July 22, 15:00 UTC
Author-meets-critics session on Maria Baghramian (University College Dublin) and Annalisa Coliva's (University of California Irvine) new book, Relativism (Routledge, 2020). With comments from Paul Boghossian (New York University), Max Kölbel (University of Vienna), and Eduardo Pérez-Navarro (University of Granada).
Session 3: Truth and Politics | July 28, 14:00 UTC
A panel discussion on truth and politics. Moderated by Michael Lynch (University of Connecticut) and Joe Ulatowski (University of Waikato). With panelists Michael Hannon (University of Nottingham), C. Thi Nguyen (University of Utah), and Lynne Tirrell (University of Connecticut).
Session 4: Truth and the Tractatus | July 29, 16:00 UTC
In celebration of the centenary of the publication of Wittgenstein's Tractatus Logico-Philosophicus, this session features a series of paper presentations examining truth in the context of Wittgenstein's early work. Presentations from Hans-Johan Glock (University of Zurich), Juliet Floyd (Boston University), and Jose Zalabardo (University College London).
Session 5: Truth and Objectivity: A 30-year Retrospective | Date TBD (rescheduled from July 26 owing to unforeseen circumstances)
A panel discussion on the enduring influence of Crispin Wright's Truth and Objectivity (Harvard University Press, 1992). With Crispin Wright (New York University, University of Stirling), Jamie Dreier (Brown University), Mark Sainsbury (University of Texas Austin), and Gila Sher (University of California San Diego).
Register for the event. Further details about the event, including Zoom links for the sessions, will be emailed to all registrants closer to the conference dates. You can also check out the conference webpage here.
A conference program with some session abstracts (and more to come) is available here.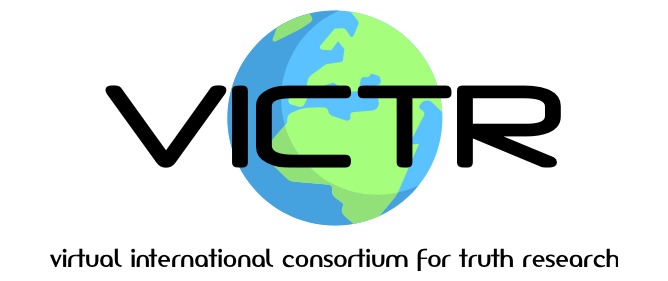 Virtual International Consortium for Truth Research
The Virtual International Consortium for Truth Research ("VICTR") is an online community of scholars with an interest in the value and nature of truth, broadly construed. As a part of its activities, VICTR is hosting several virtual talks on Zoom this spring:
January 18, Will Gamester, "Nothing Is True"
February 1, Manuel Garcia-Carpintero, "Lewis on Truth in Fiction"
February 15, María José Alcaraz León, "Truth and Imagination"
March 1, Ragnar van der Merwe, "A Dilemma for Determination Pluralism (or Dualism)"
April 12, Rachel Handley, "Moral Authority, Truth, and Quasi-Realism"
April 26, Eduardo Barrio, "Anti-exceptionalism, Truth, and the BA-Plan"
May 10, Jinho Kang, title pending
May 24, Stefano Caputo, "The Dependence of Truth on Being: Is There a Problem for Minimalism?"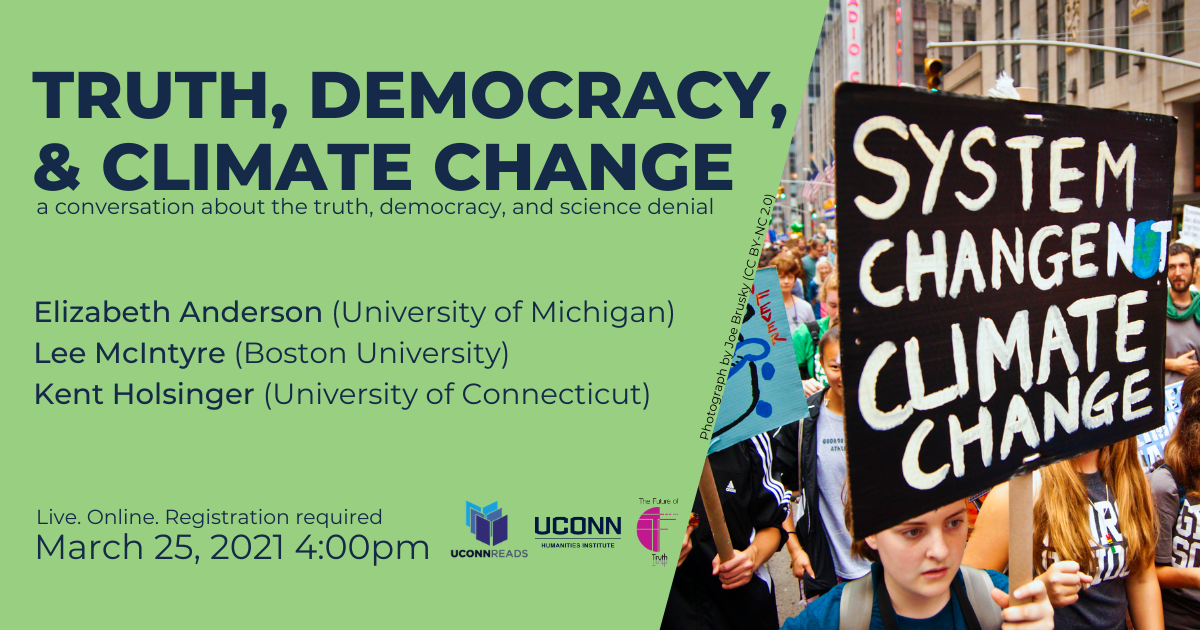 UConn Reads: Truth, Democracy, and Climate Change
March 25, 2021, 4:00 pm
Join this panel discussion on truth, democracy, and climate change, part of the UConn Reads program which focuses on The Great Derangement: Climate Change and the Unthinkable (University of Chicago, 2016) by Amitav Ghosh. Why do so many people, in the face of so much scientific evidence and expert consensus, remain so staunchly unconvinced of climate change? How can science advocates persuade skeptics to take action? What should liberal democratic societies do about polarization and anti-science propaganda? And what is the proper role for science in a democratic society? Eminent scholars Elizabeth Anderson (University of Michigan), Kent Holsinger (University of Connecticut), and Lee McIntyre (Boston University) will take up these and other questions and discuss the political and epistemological dimensions of science denial.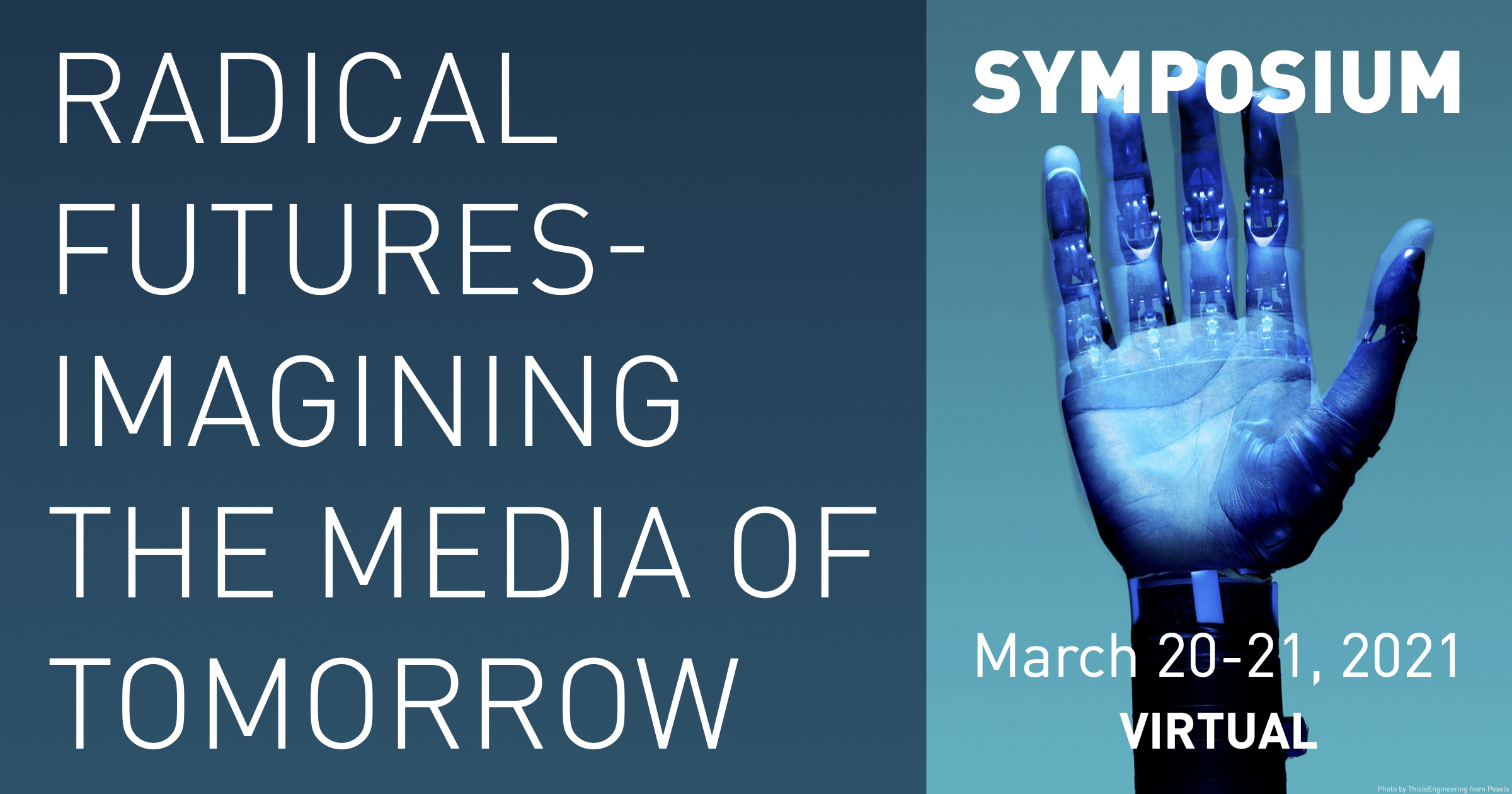 Radical Futures: Imagining the Media of Tomorrow
March 20–21, 2021
This symposium will bring together researchers from Germany and the US to discuss a) the future of media and b) form(at)s of imagination/ imaginaries in the 21st century. Central to the discussion is the role of knowledge of the future for the imagination of digital media. How can our imagination contribute to knowing the future? Which kinds of imaginaries do we consult for this purpose? Whose imagination/imaginaries receive(s) a voice? What past imaginations/imaginaries have infused the present today? What diverse digital media can we conjure up for futures that may not reflect who we are today? What truths are available today that inform realities to come?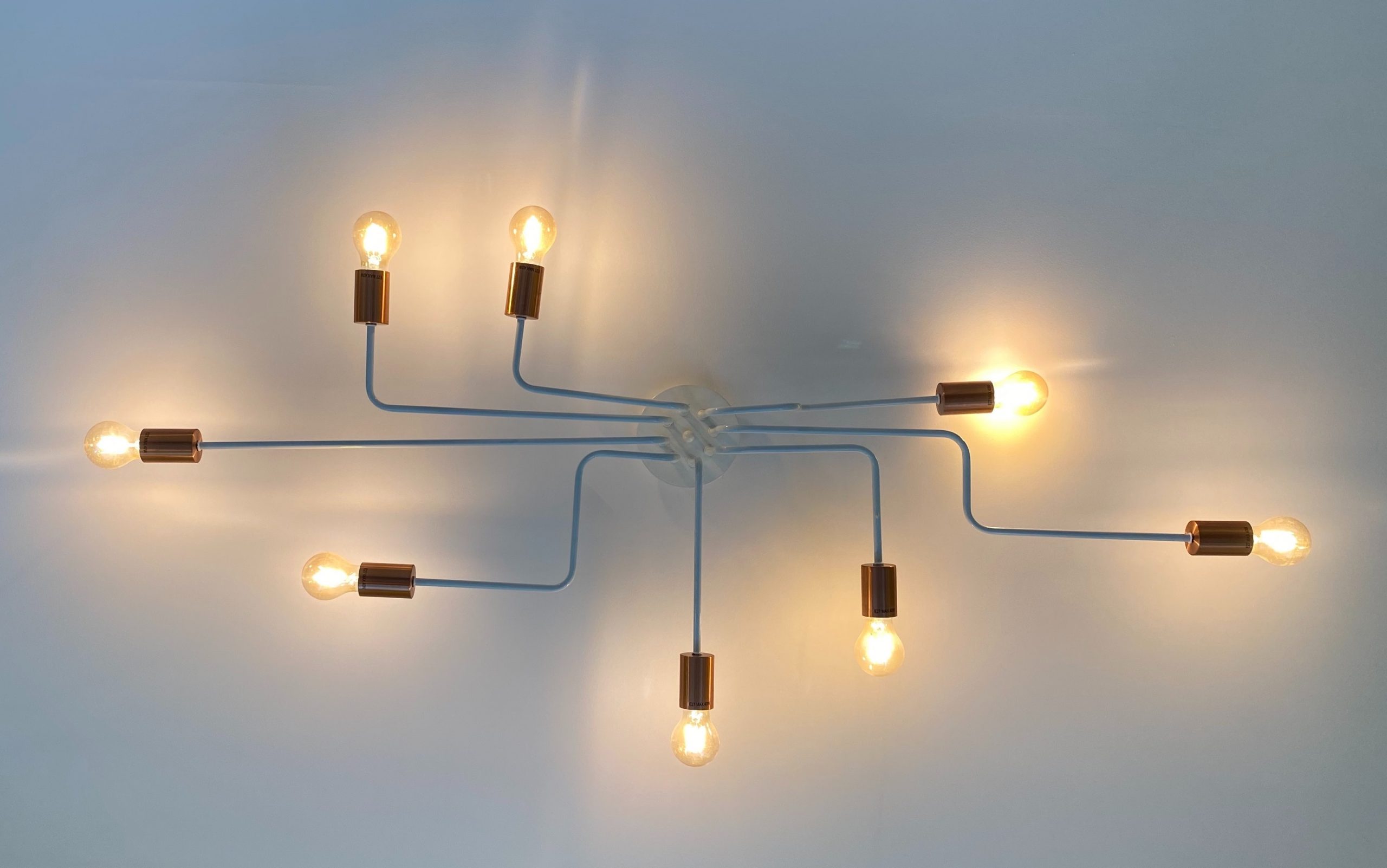 Truth 20/20: An Online Conference
July 27–August 6, 2020
Truth 20/20 brings together a community of scholars united by an interest in understanding truth. The year 2020 is unlike any in recent memory. We face the novel coronavirus pandemic as well as an ongoing pandemic of misinformation driven by political propaganda, fake news, personalized social media, and the politicization of basic facts. As the coronavirus pandemic has spread across the globe, we have been forced to reinvent and reimagine how we interact with one another. Nowhere is this more perspicuous than in scholarly pursuits.
The coronavirus may have denied us the opportunity to meet face-to-face, but the advent of online synchronous meetings and events has created an opportunity both to meet in a responsible, socially-distanced manner and to expand the scope of the project, making it more accessible, available, and inclusive. Therefore, we have invited scholars at all career stages to present at a virtual meeting that highlights recent work on the nature and value of truth. The conference is free, and, since sessions will be held online, it will be open to anyone interested in philosophical debates about truth. We sincerely hope that established scholars, a broad range of students, and the interested public will attend.
View more details about Truth 20/20 and the conference program
Watch recordings of the conference sessions on the VICTR Youtube channel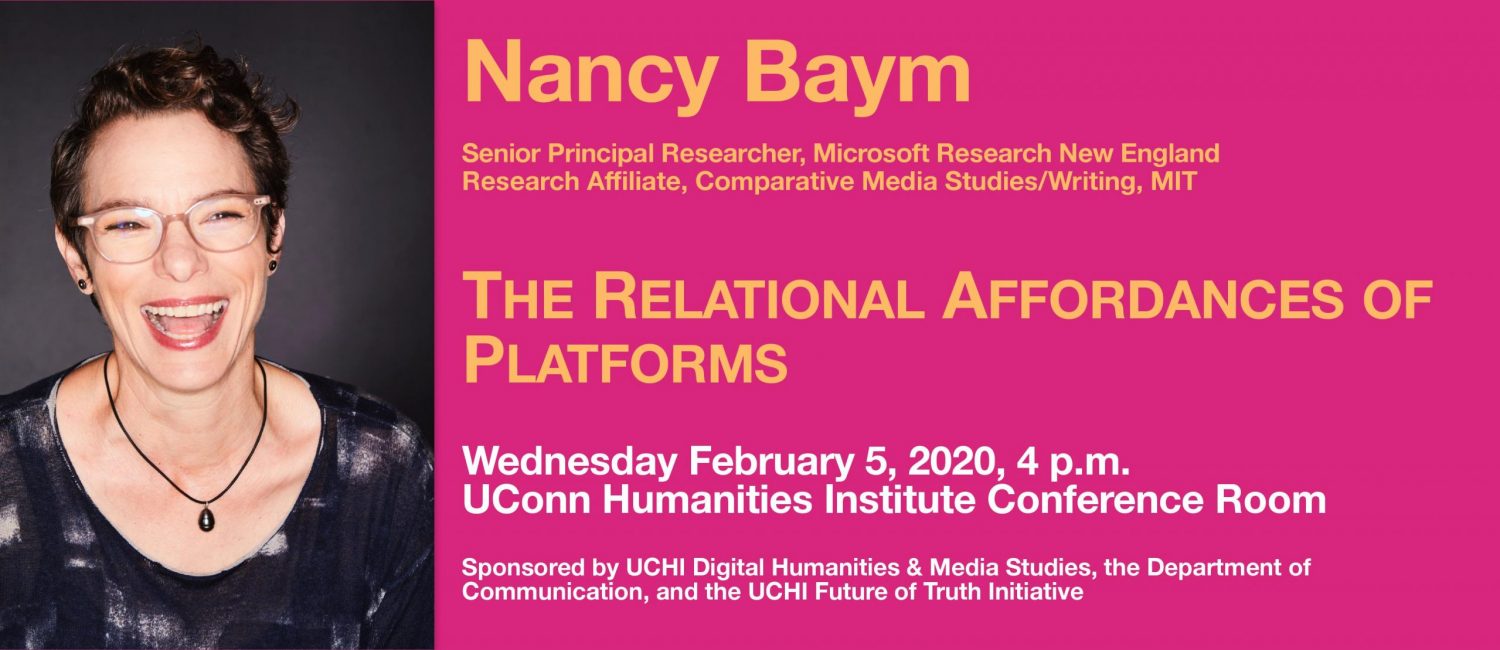 Nancy Baym, "The Relational Affordances of Platforms"
February 5, 2020
People have been socializing on the internet for nearly fifty years. In recent years, online social life has become increasingly concentrated in a relatively small number of commercial platforms. How can we make sense of the impacts they are having on our relational lives? How can we theorize platforms when they are constantly changing and used in so many different ways? In this talk, Nancy Baym draws on a range of her recent research on platforms such as Facebook and Twitter to articulate a model for understanding platforms as the dynamic, unstable entities they are, and to explore their roles in shaping, constraining and opening up new possibilities for relationships in contexts ranging from close romantic bonds to online communities and the ties that connect musicians to their audiences. The talk further considers how these platforms commodify the relational interactions that take place through them, and how their design choices have fostered environments in which relationships become tools for profit.
Nancy Baym is a Senior Principal Researcher at Microsoft Research New England, where she conducts basic research into how people understand and act with new communication technologies in their relationships. A pioneer in the field of internet research, Baym wrote some of the first articles about online community in the early 1990s. With Jean Burgess, she is the author of Twitter: A Biography (forthcoming 2020, NYU). Other books include Playing to the Crowd: Musicians, Audiences, and the Intimate Work of Connection (2018, NYU), Personal Connections in the Digital Age (2010, Second Edition 2014, Polity), Internet Inquiry: Conversations About Method (co-edited with Annette Markham, 2010, Sage), and Tune In, Log On: Soaps, Fandom and Online Community (2000, Sage). She was a co-founder of the Association of Internet Researchers and served as its second president. She has been recognized with the Frederick Williams Prize for Contributions to the Study of Communication and Technology awarded by the International Communication Association, the naming of the Nancy Baym Book Award by the Association of Internet Researchers, and an Honorary Doctorate from the Faculty of Information Technology at the University of Gothenburg. Most of her papers and more information are available at http://nancybaym.com
This event is sponsored by UCHI Digital Humanities & Media Studies, the Department of Communication, and the UCHI Future of Truth Initiative.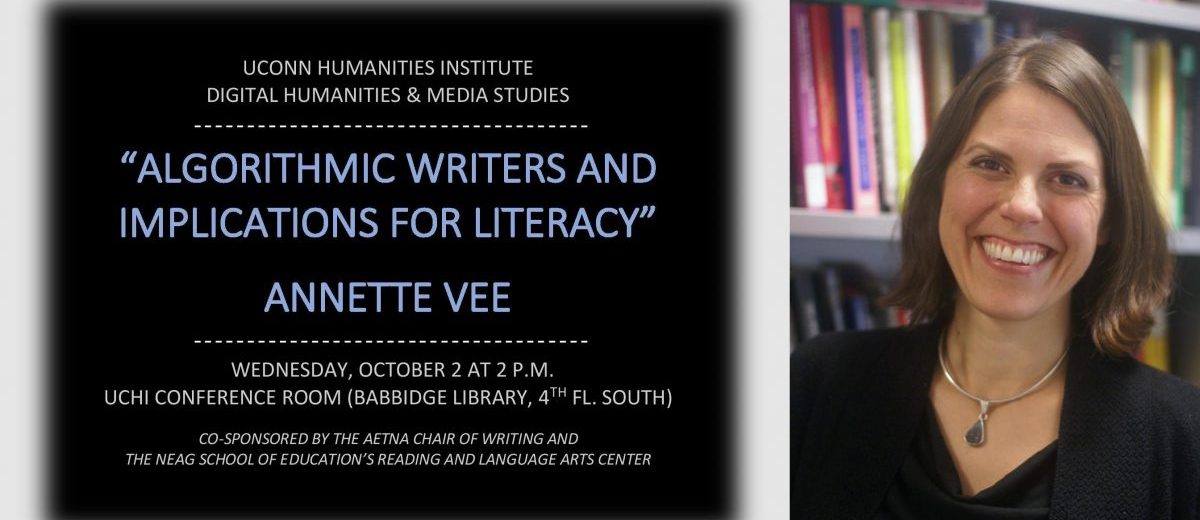 Annette Vee, "Algorithmic Writers and Implications for Literacy"
October 2, 2019
Writing today is inextricable from computation: we write on and for computers. But computers are no longer just word processors or distributors of our writing. Algorithms, which enter our lives through computers and crowd our writing spaces, affect what we write, who reads it, and how. Algorithms read our emails in order to write our emails. They correct our grammar, they can summarize and simplify texts, and they choose what we read online. If you write on or with computers (and you do), your algorithmic coauthors influence what you write and how you write it. Algorithms are more active agents than pencils or coffeeshops—other materialities that affect our writing processes—and they have complex relationships to the humans who produce and use them. What is literacy when it's learned, performed, and subjected to algorithmic writers? And how should literacy be taught in the context of ubiquitous algorithmic writing? In this talk, Annette Vee will describe contemporary scenes of algorithmic writing, place them in the history of literacy and computation, and present some implications and applications for literacy learning now.
Annette Vee is an Associate Professor of English at University of Pittsburgh, where she directs the Composition Program, teaches undergraduate and graduate courses, and is involved in various initiatives that connect the humanities, digital media and computation. She is the author of Coding Literacy (MIT Press, 2017) and various articles on computation, literacy, and intellectual property.
This UCHI Digital Humanities & Media Studies event is co-sponsored by the Aetna Chair of Writing and the Neag School of Education's Reading and Language Arts Center.